DroidDB Products
DroidDB® Full List of Features
DroidDB provides a wide array of functions for building mobile forms and relational databases on Android devices.
General Database & Forms Builder
Support for Android devices, version 2.1 or greater
Royalty free distribution of forms and synchronize (Business Edition)
Very small footprint
Support for colors and custom colors
Data resides on a flashcard
Run forms on a handheld device
Support for barcode scanning devices
Support for regional settings
Device-based text file import and export
Ability to clear the database
Report writer (Business Edition)
Form Design
Multi-page capabilities utilizing tabs
Labels, text, notes, check boxes, radio buttons, dropdown lists
File selection on click
Calculated fields
Complete picture control allows storage of images within the created database
Add images to buttons; arrange to form complex, navigable image maps
Support for digital ink (scribble & signature)
Application launch buttons
Set button color
Set buttonface image
Dependent drop down lists
Look-up Controls (to display data from an associated table)
Sophisticated Grid Controls including sizable columns, column headers, and sorting
On-screen number pad
On-screen calendar
Center aligning of controls (in addition to left and right)
Left/center/right alignment on labels
Cut and paste multiple controls
Image controls connected to text fields and cameras
Marquee select
Textual listing of forms and macros
Desktop Connectivity / Data Transfer / Synchronization (Business Edition)
Synchronize with any ODBC-enabled database, including Microsoft Access
Synchronize multiple handhelds to the same desktop table
Synchronize different tables to different databases
Synchronization operator that copies data from handheld to desktop and deletes data from handheld
Synchronization operator that publishes data to handheld
Wireless synchronization over TCP/IP and Internet
Handheld specific synchronizaion configurations
Real-time wireless access to server data
Finding Data
Filtering for one or more criteria
Predefined and user-defined filters
Up to four sort and search fields
Search commands can do exact match searches
Search commands do not have to prompt user from search value
Development Environment Features
Events: set focus, lose focus, value changed, form start-up, record display, leaving record, select tab
Wizard to create distribution disks (Business Edition)
Macros can launch other macros
Command to show/hide some other control
Command to set focus to a particular control
GPS support for all NMEA-compatible devices (parse and save values according to the NMEA standard)
Drag-and-drop control creation
Develop forms on a desktop computer
Font selection (typeface, size, style)
A macro editor, making it easy to create well-structured, well-documented macros
Support for global variables
Field and variable values allowed in messages
Support for scalar functions (numeric functions, string functions, date and time functions, GPS functions, system functions, global variable function )
Controls such as edit controls, radio buttons, command buttons, and jump buttons can be connected to variables
Lookups, grids, and dropdown menu content can be keyed to variables
Variables can be used in filter conditions
Ability to load drop-down lists from tables
Required fields
Default responses
Message boxes (yes/no or OK)
Calculated expressions can check for the existence of a picture or signature
An ASSIGN can clear a picture or signature
String values can be used as expressions
Calculate sum of values in grid / count records in grid
Programmatic control of grids
Utility to assign a name to a handheld
Send and receive SMS text messages
Launch third party apps
Custom menu bars
Timers
Dial a phone
Navigational dropdowns
Play sounds
Sleep
Compass
Toast
Pre-Built Interfaces
DroidDB ships with pre-built interfaces for numeric and date/time data entry.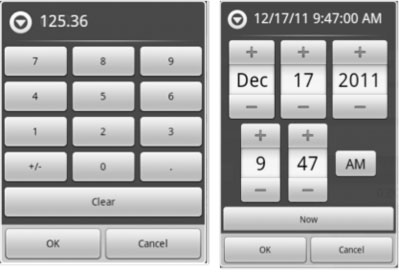 DroidDB is a member of the SYWARE family of database and forms development software products, including Visual CE®, the popular database development tools for Windows-mobile and Pocket PC handhelds.